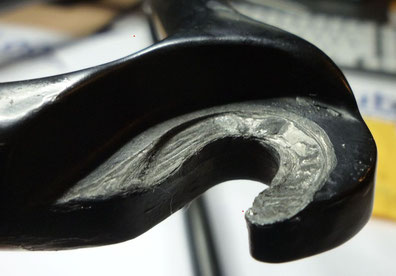 Schnellspanner Abnutzung Carbonausfallende auf Deutsch lesen, hier klicken
By playing in combination with torsional forces through fast descents, bumpy roads, tight corners with too little contact pressure through the quick release it can lead to material removal in and at the dropout, as well as on the chainstays. This should be avoided by a corresponding strong adjustment of the quick release, but also not too tight, so as not to damage the carbon structure by excessive surface pressure again.
If the overall structure is in tact, there are no signs of cracking, so this should not be classified as damage, but further material removal should be avoided in the future.
Quick release - dropouts are not a precision stop!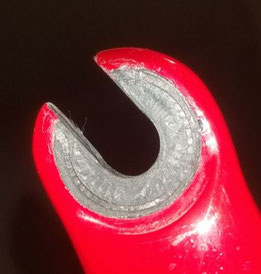 Quick release in combination with carbon fiber ends are no precise stops, and no information for a defined contact pressure are possible. It is basically a matter of adjustment, in relation to the position of the wheel and surface pressure by the quick release, which can be adjusted by the locknut. Note that the hub contact surface to the inside of the dropouts is not too heavily ridged, and too much depresses through the very rough surface of the hub, especially on the rear wheel, in the dropouts and makes them broken.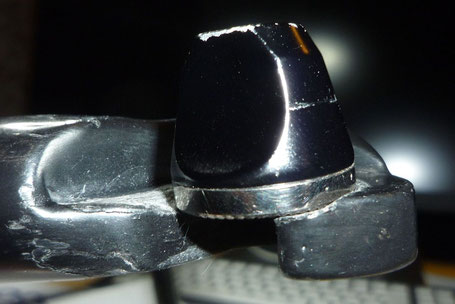 The decisive advantage of a quick release is the quicker wheel change by simply releasing the quick release and possibly loosening the lock nut, the wheel can be easily pulled out of the dropouts, including quick release thru axle. When installing the wheel it must therefore always be paid attention to the centering of the wheel and the hub to avoid any grinding on the chainstays, and to avoid a possible play in the dropout itself with the already mentioned possible material removal.
If there is still a wear / material removal in the dropout, the wheel is finally no longer automatically centered approximately, this is  no general reason for a repair, as long as a sufficiently large contact surface for  the quick release is still present. It then has to be manually adjusted as usual. Regardless, dropouts made of carbon are the achilles´ heel of a carbon frame, as due to the laminate structure, a full-fledged repair is almost impossible.
Screw-in through-axles
In contrast, the screw-in thru axles are becoming more standard. These are significantly thicker and therefore heavier, but give the exact mounting position automatically, as long as the rear end, the fork are not warped. Screw-in thru axles offer the wheel much more precision, grip, which is an unbeatable, necessary advantage especially in the mountain bike / MTB area and downhill, although now the screw-in thru axles are also on the rise in the road bike area through the use of disc brakes.
---